THE GRAY, GREY, CANESCENT, SILVER, PEWTER, PEARL, BRONZE, WHITE,
ARGENTINE, OYSTER, STERLING, STEELY AND PLATINUM HAIR SERIES
What we conveniently call gray hair is as difficult to categorize as it is easy to change. It is harder to describe than any other color because the truth is that "gray hair," when observed closely, is not gray, white, silver, or any other color. It is colorless. When observed through a microscope it appears as if it was plexiglass tubes. Color in your hair comes from melanin, which is produced by a melanocyte at the bottom of each hair shaft (in the bulbous bit that is rooted in your scalp).
The Gray Hair Series of individuals you see here is an ambition to include as many variations that I can conveniently find of this honest indicator of time that can show as grace, style, sophistication, class, and age. Beauty is expressed in all kinds of ways and at all ages. I hope that these images indicate that. I continue to learn as I photograph the subjects with a lot of anecdotes and information that have helped me to learn more as I photograph members of this huge segment of the American population.
Gray hair is not gray but a variation of several shades of a gray spectrum as well as silver, platinum, smoke, metallic, bronze, and golden grays. There is no set pattern that is absolute to the graying of the world. The loss of pigment in the hair follicle can take place as early as the teenage years and some hardly show a touch of gray at their latest years. This contradicts the idea of one gray generation.
Just as there is that loss of pigment to produce gray hair, there is also the diametrical shape of the follicles that produce straight or curly hair. This is a physical range of the relative round to oval to flat sided hair follicle. The appearance of our hair follicles under a microscope will prove to us that the appearance s of the generic term gray really is a hair follicle that has lost all or most of its pigment. They will appear to be the same as plexiglas tubing. Every hair strand is connected to two capillaries that supply blood to the root of the hair follicle. These capillaries are so small that the blood corpuscles travel in single file. I am not sure whether hair is still seen as a form of protein.
The concept of gray hair is another one of the great equalizers of the world. Another way to illustrate that people are more alike than different which is a large part of my philosophy. It knows no boundaries of gender, race, class, religion, or attitude. Even heredity can contradict this characteristic. When the hair is dyed, it is just a covering of the outer shell of the follicle thus it is a cover-up. Even Osama Bin Laden was affected enough to believe that he needed to dye his gray hair to appear younger when it was not necessary. The ages and the generations that we all represent appear and are probably younger in attitude and maturity than ever compared to our parents' generation and we may be younger than they were at our age. Gray hair does not symbolize the lifetime signature of the aging of an individual as much as it is an example of the experience of the beauty of a life and our time in this life. Other names used to describe this look besides gray, grey, silver, pewter, bronze, and platinum are slate, smokey, oyster, peppery, gun metal, frost, rimy, stone, fog, steely, iron, sterling, Argentine, smoky, steely, snowy, salt and pepper, albinism, grizzled, lead, and canescent. The gray is usually within a range of semi-opaque to clear follicles as well as the original color of the hair that affects the range of gray from silver, through platinum, smoke, metallic, bronze and sometimes golden gray to white. The false advertising campaign of hiding that gray such as the old slogan: "hate that gray, wash it away" is just another way to sell products. It is not the covering of gray that makes us look younger as much as the attitude inside of our heads not on top.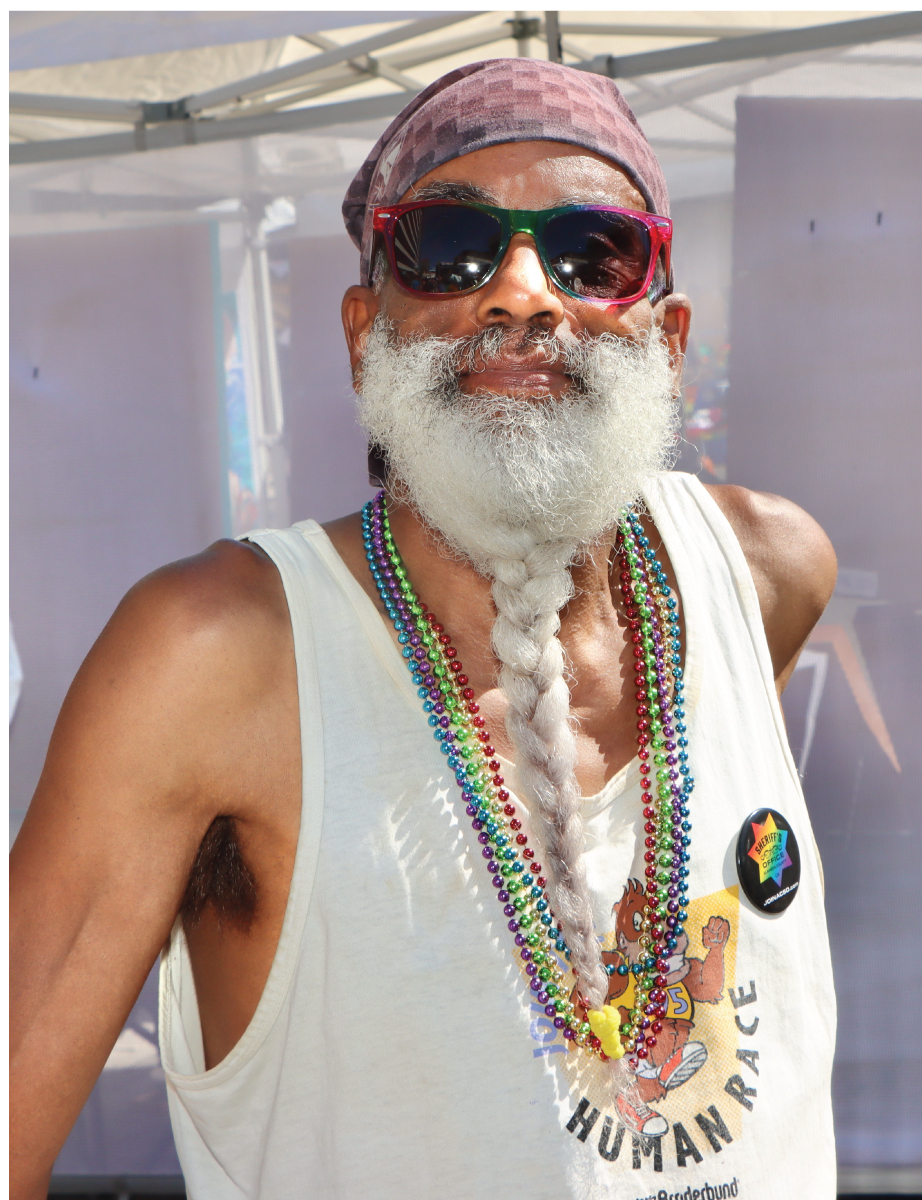 "Hair model: Kemit" Oakland, California September 2023
| | |
| --- | --- |
| "Hair model" Berkeley, California September 2023 | "Hair model" Oakland, California September 2023 |